Name: Shoku Dragon
Alias: N/A
Themes:
1.Ao no Exorcist - Exorcist Concerto Third Movement U & Cloud (Hiroyuki Sawano)
2.Kill La Kill - Don't lose your way
3.OC ReMix #1127- Resident Evil 2 'Ada's Groove' [Ada's Theme] by ABG
4. Disturbed- The Game
5. Boku no Hero Academia OST #1 - You Say Run
Race: Saiyan/Dragon
Age: 15
Aura Color: blue/black
Affiliation: neutral good
Goals: to become the strongest warrior and save the earth.
Personality: kind,keeps to himself and is a smart ass to people he doesn't like.
Bio: we was born and raised in the the city, he spent some of his life in the books and mostly training. His mother Jade, he doesn't know anything about his father only that he's a great Dragon warrior, that's all he needed to know. His mother died from an illness and he was only 10 years old, he lived the rest of his life lone never to complete his training. He promised himself that he will become the hero the world needs, j
ust like his mother wanted. He wandered the earth for 5 years and that's why his hair is long, because he never cut it
Abilities and Equipment: his very fast on his feet, he carries a small little bag that carries foods  in it.
Forms: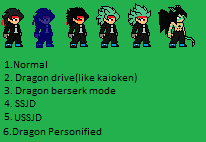 Attacks: Dloom blast, Fire rising sphere, Dragon rage
Dloom blast: it a energy beam attack, he takes his arm and sticks it out at his foe open palm then takes his other hand and holds it at his elbow area and holds it tightly and fires the attack.
Fire rising sphere: it works like the rasengan but using fire  other then wind element, once he releases this attack it will push the enemy into the air like Boruto and Naruto combo attack does and explode.
Dragon Rage: this can only be accessed through rage or a lost of someone close to him. So in the series I plan on having a girl he really likes gets killed.
Family that he knows of: his father and mother

family that he doesn't know of: his brother
(will they be important? yes)